SocksKnee.com Online Socks shop!

Knee socks with bright colors and many styles. Socks over knee, white knee socks, argyle knee socks, knee striped socks, red knee socks, black knee high socks, knee high white socks, red knee high socks, and argyle socks knee high are available to shop online.

We also have orange knee socks, pink knee high socks, and hopefully to have neon knee socks too. Orange knee high socks, white knee sock, white over the knee socks, and dress knee socks are among the most popular socks.

Please view our customers review and feedbacks on our Knee Socks.

Sports socks with terry cushion on sole, toe, and heel

Many colors to choose from, Quality knee high socks. 3 adult sizes available.

Womne's casual/fashion knee striped socks

Many colors to choose from. Fine quality, no cushion, one size fits most women

men's argyle mid-calf length socks

Socks size 10-13

Affordable price

Youth soccer socks with 4 line stripes

Terry cushon on sole, toe, and heel. Many color conbinations available.

Fine quality youth soccer socks.

---

Socks updates

New socks will be up online as soon as they are avilable. Please come back to check our website in the near future.

Check our pink socks for breast cancer awareness month in March
Women's fashion/casual Argyle knee high socks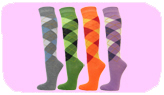 ---
Terry cushioned toe, sole and heel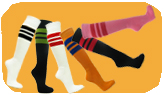 ---
Women's striped over knee high socks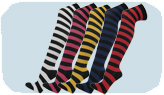 ---
Women's plain color knee high socks